Which University Is Your Best Fit?
Applying to college is more than simply checking off items on a to-do list. If done properly, it can set you up for a lifetime of success and save you thousands of dollars in the long run. I have spent over 12 years mastering the college application process and coaching students just like you using my 5 Step Process. The results speak for themselves with 100% acceptance into colleges like Duke, UVA, TCU, University of Texas, Texas A&M, SMU, and many more.
TAKE ACTION! CLICK AN OPTION BELOW TO…
Understand The Application Process?
I have created an outline and video to explain what applying to college really is versus what is it not. It is important to understand "why" you are applying to college before you even begin to start on the "how" to apply to college. If you begin with the "Big Picture", the rest will fall into place. It could save you countless hours and thousands of dollars if you get this part right from the beginning. Learn the advantage by downloading the FREE one-page document and accompanying video. This guide will set you on your way to creating a truly authentic and competitive college application. Check It Out! will be the first step in the right direction towards your best life.
The How: 5 Step Process To Apply To College
Over the past twelve years, I have successfully guided hundreds of students through my 5 Step Process to apply to college with meaningful results. I believe the college application process is so much more than checking off a list of tasks on an admissions checklist. If done correctly, it can be life-altering. Don't spend years following the wrong path based on someone else's dream for your life or look back only to wish you had chosen a different career field that was more fulfilling. Don't settle for a job that you have to take a vacation from every year. Get it right from the start. This overview will show you how to get what you want in life by beginning with the end in mind. Click on Work Smarter! now.
Want To Stay Ahead Of The Competition?
Too often I hear students say that they just can't afford to attend college, they don't know where to start in the college application process, they have dreams of playing college sports, or they don't have time to do all the required steps to apply to college. My answer is that there is time, you can achieve your goals, you are smart enough to get a college degree, and if you are willing to work hard to obtain the life you have envisioned then that is the first step in the right direction. By clicking Get Ahead! you will receive all the latest information, tips, and strategies to successfully pursue your goals each week in your inbox. Don't miss out!
"Everyone has a story and it can be an integral part of what you choose to do with your life. Your story can open doors of opportunity that you never thought would open. I love to tell people why I do what I do and in offering you a glimpse into my life, it will in turn empower you to own your story as well."
- Dr. Kendall Young
"The people who are crazy enough to believe they can change the world, are the ones who do."
— Steve Jobs
My Story.
Dr. Kendall Young
I have been an educator for over twenty years and the Lead Counselor at Tivy High School for the past twelve years. In 2009, I lost two beloved students. I still remember walking down the aisle to speak to his mother and all I could say to her was, "I wish I had done more." He didn't see a positive future for himself at the time of the tragedy and his life ended far too soon. From that point forward, I vowed to never allow another student to not know their value in this world. They must see a future full of potential and be excited about the possibilities that await them. I have made it my mission to instill that enthusiasm in each young adult I encounter through my program. There is no greater joy than that of a young person taking ownership of their life's direction and envisioning all the opportunities that await them. Mario's story did not end in September 2009, because his spirit still lives on in me through my work, in his sister who just completed her college degree, and all of the loved ones he left behind but imprinted on their hearts during his short time on earth. My work to help students chart their course and direct their steps toward success is my passion. It's never work, but rather a blessing that I get to do on a daily basis. I would love the opportunity to help guide you through your college application process, because as you will soon discover, it is not simply about how to apply to college. The process is about discovering who you have been all along in order to now live out your life with purpose and passion; living intentionally.
My Services »
Schedule a Free Consultation »
drkendallyoung@curatedcollege.net
(830) 377-5911
Many of my clients are currently designing the type of life they only dreamed of before applying to college using the 5 Step Process. Take a look into just some of the success stories.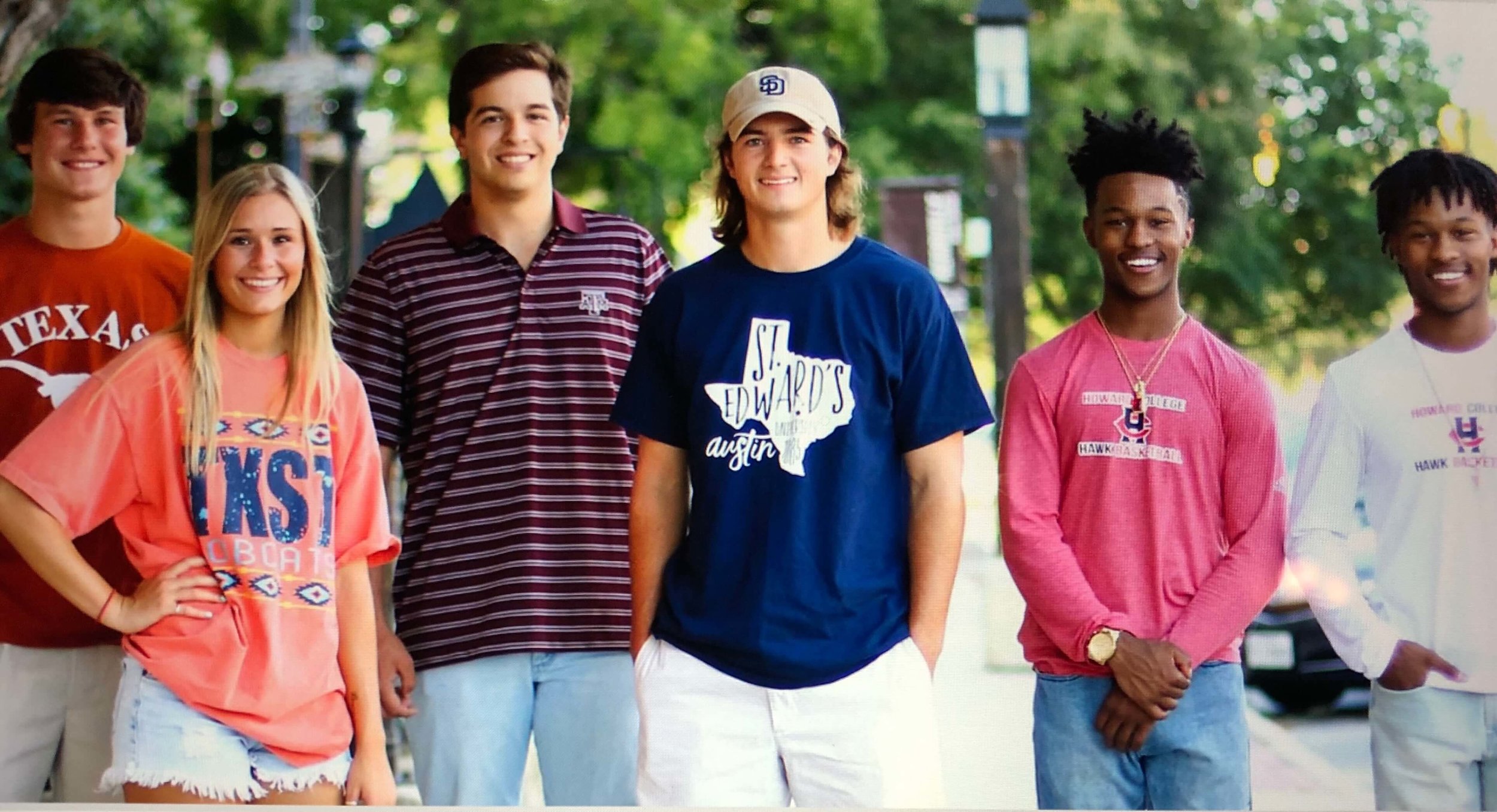 How I Can Help You In Your Journey & Why I'm Different Than Most College Consultants
Educational Planning
Designing your high school experience to support your future goals is a critical step in the college planning process. While all schools are unique, each one can provide opportunities that place you ahead of your competition when planned out properly. I will work with students in establishing a plan to get the most out of their high school experience.
Test Preparation & Planning
The SAT & ACT — Preparing for college entrance exams can be one of the most important tasks in the college application process and can pay-off in a major way. I will strategically plan the process with the student to maximize their capabilities and results.
Community Service
Giving Back — I will work with the student on finding where he or she can give back with the greatest rewards to community. Identifying that special talent which allows a student to serve others is opening the door to a lifetime of happiness.
Extra-curricular Activities
3 Tiered System — I will work with the student on discovering what they LOVE to do and how to get plugged in to the right activity or activities. I will work with the student on identifying to what degree their activities make an impact on their college application and how to strengthen their targeted participation at a deeper level.
College Sports & Recruiting
Want To Play College Sports: Integrating the desire to play college sports into the college application process adds another layer of intensity. However, when considering both the academic as well as the athletic fit for college it is important to not loose sight of the fact that the two items are not exclusive but rather inclusive of each other. The academic and athletic fit must mesh and fully integrate into the fabric of the higher educational opportunity for the student athlete.
Identifying A Major
Make It Meaningful — Selecting a major requires time and research. It also consists of moments of introspective analysis to determine your likes, dislikes, passion, and desire to learn or grow. I will guide students through the reflective process to arrive at an intended major of study that ignites a fire within them to learn and grow.
College Essay Brainstorming & Writing
Be Fearlessly Authentic — The college essay is the opportunity to share meaningful experiences, obstacles, or stories about your life with the admissions staff that they would not otherwise know by simply looking at the transcript, rank, grade point average, and test scores. It is your time to shine, share, and ensure them that you are the best candidate for admissions to their respective institution of higher education.
Campus Visits & Connecting with Admissions Staff
Demonstrate Your Level of Interest — Colleges are keeping track of the level of interest demonstrated by students in an effort to target their efforts toward invested prospective students. I will work with students to connect with the appropriate admissions staff and set up meaningful campus visits. Too often students and parents just attend the general session and only obtain a small glimpse into what the college experience truly consists of instead of taking full advantage of their time on campus. There is a process and method for maximizing the campus visit that results in experiencing many aspects of college life in order to determine if the college is, in fact, the best fit.
Book: Curated College
5 Step Process — I have developed a successful process to apply to college over the past ten years that has resulted in my students being successfully admitted to top universities throughout Texas and other states across the United States. Get your copy of Curated College and get started now!
Contact Dr. Kendall Young